Plant of the Week
Zingiber spectabile
This perennial herb has branched aromatic rhizomes that give rise to cane-like stems and forms a clumping habit. It has glossy dark green lanced-shaped leaves and the pale yellow tube-shaped flowers appear in an erect bracketed spike during summer.
Zingiber spectabile Griff. 1754 is naturally found from Malaysia to Thailand growing in the understory of lowland tropical forests commonly along creek embankments on the coast and on hillsides from sea level to an altitude of 1,200 m (3,937 ft). It grows in well drained well composted organic rich moist sandy to loamy soil that is tending acidic with a pH range from 6.0 to 6.5. It prefers a protected semi-shaded to shaded humid position, becoming dormant in dry or cool periods and is drought frost-cold tender.
The Beehive Ginger is grown for its unusual cylindrical flower heads and its clumping growth habit. It is planted in tropical or sub-tropical gardens as a specimen along shaded borders or around a water feature. It is also mass planted in parks or large gardens in the understory of trees or used in warm shaded courtyards. It is suitable for coastal and low-mountain regions, establishing in 2-3 years. In cool regions it is grown in a heated glasshouse in the soil or in tubs or planter boxes. It will survive outdoors in zone 8 if the roots are mulched but normally only flowers in tropical regions. The cut beehive-like flowers are used in floral arrangements and are available in several colours. Once established it has a high water requirement (Scale: 3-drops from 3), responding to mulch and reliable watering and misting to increase humidity.
I.D. 2960
UK hardiness zone H1a
Climate zones H1, H2, 9, 14-24,
USDA Zone 10-12
Zingiber (ZING-gi-ber) spectabile (speck-TAB-ih-lee)
Etymology
Genus: Sanskrit - Zingiber – 'shringavera' meaning (shaped like a horn) referring to the shape of the rhizomes
Species: Latin - spectabile – meaning (visible, spectacular.) referring to the flower heads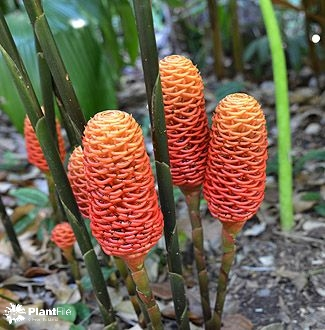 Plant of the Week
2,900 common species

Selected plant lists

Additional photo gallery

2X licence

Text file capability

Upgrades

Add your own plants

Pest and disease info

PDF function

For Upgrades,please contact

sales@plantfile.com