About Us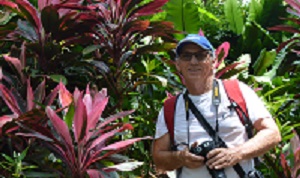 Peter Kirkland
PlantFile's Author
Peter Kirkland has been working in the horticulture & landscaping industry in the Sydney region for over 35 years. Realising there was no horticulture master plant software available for both professionals and home gardeners, Peter began building PlantFile in 1982. PlantFile now has profiles of over 4000 species with plant information including cultivation, photographs, pests, diseases and more and is used as a primary horticultural teaching tool at TAFE in NSW, QLD and Victoria as well as several Australian universities. Peter continues to create new technological innovations for PlantFile including online access, apps for mobile phones and, most recently, QR Code technology.
From its initial introduction into the industry in 2000, PlantFile has grown to a practical, user-friendly database, with information and images of over 4,000 plant species and 9,000 cultivars. PlantFile has been taken up enthusiastically by students, professionals and state & local government agencies.
The team at PlantFile includes Izumi Tsukazono (Photo Gallery expert)
Layla and Tatsuki Kirkland (field phtographers).
A big thank you to all the PlantFile users who have given constant support and feedback which has been invaluable in making PlantFile a valuable resource.