Special Offer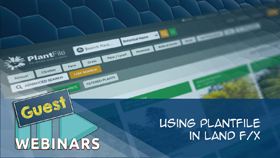 PlantFile is a powerful resource for botanical data. It allows you to browse for the perfect plant based on specific criteria, provides a wealth of information on every plant within, and makes planting reports exceedingly easy. And now it's available as a substitute for the default Land F/X plant database within the software. Join PlantFile creator Peter Kirkland as he shows off what you can do with PlantFile and how it connects to Land F/X.
Introduction to PlantFile Online
PlantFile is plant information / photographs and their pest and diseases.

PlantFile Online has the latest up to date information and can be accessed on all devices. It is used by professionals, students and home gardeners.
click for more info : plantfile.com/plantfile-online